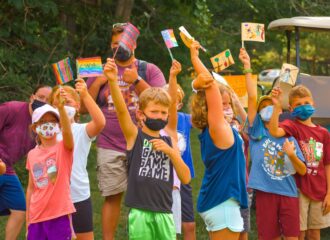 DAY CAMP [Completed K - 2nd Grade]
Our youngest campers are introduced to camp during a week of 4 daylong sessions (Mon-Thurs)! Days are full of Bible study, crafts, swimming,
nature, and games. Lunch and snack are provided. This camp is a perfect option for Sunday School classes, play groups, or a Vacation Bible School alternative, so why not bring a carpool full?!?!
2023 Fees: $165/$175/$185*
DAY CAMP OVERNIGHT
Parents, grandparents, or another camp-approved adult can join day campers Thursday evening to find out what camp is like at night! The overnight experience starts after the regular day camp closing program and includes dinner, an evening activity, snack, and Vespers! In the morning, campers participate in Morning Watch and breakfast before heading home at approximately 9:00am.
2023 Fees: $30 per person/$32/$35*
2023 DAY CAMP DATES
June 26-29
Overnight: June 29-30
EXPLORER DAY CAMP [Completed 3rd - 5th Grade]
Are you ready to go exploring? Campers not quite ready for overnight camp can enjoy a week of Explorer Day Camp from Monday to Thursday! Activities include Bible study, crafts, swimming, nature, hiking, group games, and a cookout. Lunch and snack are provided.
2023 Fees: $165/$175/$185*
EXPLORER DAY CAMP OVERNIGHT
Explorer Day Campers can add on an overnight and enjoy a full day of camp activities on Friday! Thursday evening will include supper, an all-camp activity,
snack, and Vespers. Friday features early morning activities, Morning Watch, and a traditional camp day.  Pick-up is at 6:00pm on Friday.
2023 Fees: $70/$75/$80*
2023 EXPLORER DAY CAMP DATES
June 26-29
Overnight: June 29-30
JR. HIGH DAY CAMP [Completed 6th - 8th Grade]
This option allows older campers to experience our traditional Jr. High Camp program as a day-only camp.   Jr. High campers will also participate in campers' choice activities (archery, canoeing, cooking, crafts, nature, etc.), cookouts, campouts, the low and high ropes challenge course, and more!
2023 Fees: $165/$175/$185*
DAY CAMP OVERNIGHT
Jr. High Day Campers can add on an overnight and enjoy a full day of camp activities on Friday!  Thursday evening will include supper, an all-camp activity, snack, and Vespers.  Friday features early morning activities, Morning Watch, and a traditional camp day.  Pick-up is at 6:00pm on Friday.
2023 Fees: $70/$75/$80*
2023 JR. HIGH DAY CAMP DATES
June 26-29
Overnight: June 29-30
Drop-Off for all Day & Explorer Camps: 8:00-9:00am
Pick-Up for all Day & Explorer Camps: 4:30-5:30pm
Day camps are tax deductible as child care.
Check with your tax preparer.
*Camp rates are for one person and include a camp group photo and T-shirt.  The final program cost is determined by the date postmarked on the registration form (see chart).  Brethren Woods encourages churches to provide financial support for campers. To receive this support, your pastor or camp representative must complete the church support box on the registration form, clearly indicating the specific amount of support.  Churches will be billed at the end of the summer.